About me
"A lifelong need to use my hands in order to make something has brought me to where I am today; does this need sound familiar to you?"
Starting out

Brenda Scarman studied City & Guilds Embroidery in the late 1980s. Under the tutorship of Enid Mason, Brenda discovered that it was the traditional embroidery techniques that excited her the most.
"I feel passionate about keeping traditional embroidery techniques alive and I want to share them; they are a fundamental part of our human history, spanning the generations of today and tomorrow."
Shortly after completing her City and Guilds, Brenda was given the opportunity to teach needlework at her local adult education centre in Lincoln. What started out as a small Monday morning group of ladies, soon grew into one of the most popular classes on offer in the area. Always oversubscribed, the group is still active today, albeit the format and faces have changed.
A highly regarded tutor and speaker
Over the twenty years that followed, Brenda Scarman has built up her reputation as one of Lincolnshire's most widely regarded embroidery tutors and speakers. With classes the length and breadth of the county, Brenda's highly practical and entertaining workshops have made her a popular choice of tutor for hundreds of learners keen to unravel the secrets of traditional needlework. Brenda also makes regular appearances at meetings of the Women's Institute and the Embroiderer's Guild, along with providing demonstrations to private groups.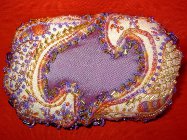 The future
An established portfolio of regular classes in Lincolnshire and the East Midlands under her belt, in 2011 Brenda is broadening her reach. With appearances at the Knitting & Stitching Show in Harrogate, the Jersey Textile Showcase and even the Norwegian Fjords, Brenda is looking on course to achieve her aim of ensuring that traditional embroidery techniques are not relegated to the history books, but are alive and well in fashion, decorative arts and the beautiful handcrafted items made in home up and down the country.
Achievements
Winner of the Mildred Higgins Award, 2009 - Lincolnshire Embroiderer's Guild (picture to right)
Exhibitor at the National Needlework Championships
Exhibitor in New Stitches Christmas tree decoration project - items displayed at Buckingham Palace, Selfridges London and the Victoria and Albert Museum
Memberships